How an Open World Sandbox Starring a Mischievous Goose Became One of 2018's Most Anticipated Games
The developers behind Push Me Pull You are back with a hilarious game about being a mean goose.

This article first appeared on USgamer, a partner publication of VG247. Some content, such as this article, has been migrated to VG247 for posterity after USgamer's closure - but it has not been edited or further vetted by the VG247 team.
Untitled Goose Game doesn't even have a name yet. And yet, a teaser trailer set Twitter on fire just a month ago. It was a cute trailer: here we saw an adorably rendered goose causing mischief to a poor person tending to their garden. The goose stole their plants; carried a loud radio; got them wet. This goose was making it their life's goal to terrorize this human being for no decent reason.
And in Untitled Goose Game, you're the goose. You're the horrific, evil, ever-waddling goose.
"Somehow humans have decided this is a bad animal," Jake Strasser, of Melbourne, Australia-based House House studio aptly described to me at Day of the Devs, Double Fine's annual independent game showcase that was held on November 11th. Their game, with the placeholder name Untitled Goose Game, was playable for the first time here at Day of the Devs. During my demo I waddled through a cursive-scribbled list of annoyances to complete: gathering supplies for a picnic that included stealing sandwiches and a radio, utilizing stealth to sneak into a garden, dragging a rake into a lake. They all shared a common goal: to make this poor groundskeeper's life miserable.
Geese, by and large, have quite the reputation. I know it, you know it, the developers behind Untitled Goose Game definitely know it. When I ask Strasser and two other members of House House about why they chose a goose specifically to vilify, the answer is mostly shrugs. Collectively across the world, geese are just known to be unpleasant nuisances. There's no rhyme or reason to it. Everyone just hates geese for some reason.
But the House House team didn't have any personal horror stories involving geese to draw from for the game. Even as Stuart Gillespie-Cook of House House stated, it makes them feel a bit like frauds.
"I mean we've all had bad animal experiences," said Nico Disseldorp. "That's pretty universal." Disseldorp recalled the time a goat chased and "battered" him. Gillespie-Cook the "pretty scary" time a pelican stole his boot. Bad experiences with animals are indeed something everyone can relate to, whether it's a feline being rude or a goose honking to the point of annoyance. "We're going for like a more universal idea of what [being terrorized by an animal] is like," said Gillespie-Cook. "I think we just like the idea that everyone thinks a goose is like this, like everyone knows a goose is horrible. It's like culturally accepted."

This is the second game from House House, the creators behind the adorable but unsettling multiplayer game Push Me Pull You. I remember my time with Push Me Pull You quite well, mostly because of how gross it looked in spite of its art style: two heads and four arms on one single Noby Noby Boy-like body, crawling across the floor. More than its cute aesthetic, I remember mostly how the game sounded, with the pitter patter of hands slapping the ground as players worked with each other to stretch and push their opponents. Push Me Pull You was a game rooted in gross body humor. Surprisingly with Untitled Goose Game, House House is working with the same core principle in mind.
"They're both our sense of humor, I guess," said Gillespie-Cook. "Like they're both the things that we find funny but then maybe like the different spectrum of that; the opposite ends." In a more digestible sense, they frame both titles as "physical comedy games." In Push Me Pull You, the humor is in making players uncomfortable; in Untitled Goose Game, the humor is in wreaking havoc on this small town as a mischievous goose.
Untitled Goose Game, though it doesn't have an official title yet, is aiming for release sometime in 2018. In the meantime, House House are building beyond the small mess-with-a-groundskeeper sandbox seen in the demo and trailer. The entirety of the game, the developers say, will build upon a small open world; navigated wholly by the fiendish goose. The small town in the game was heavily inspired by British children's shows (though the developers say they also watched filmmaker Edgar Wright's action-comedy Hot Fuzz, which features a scene of an equally rude lost swan, for "research").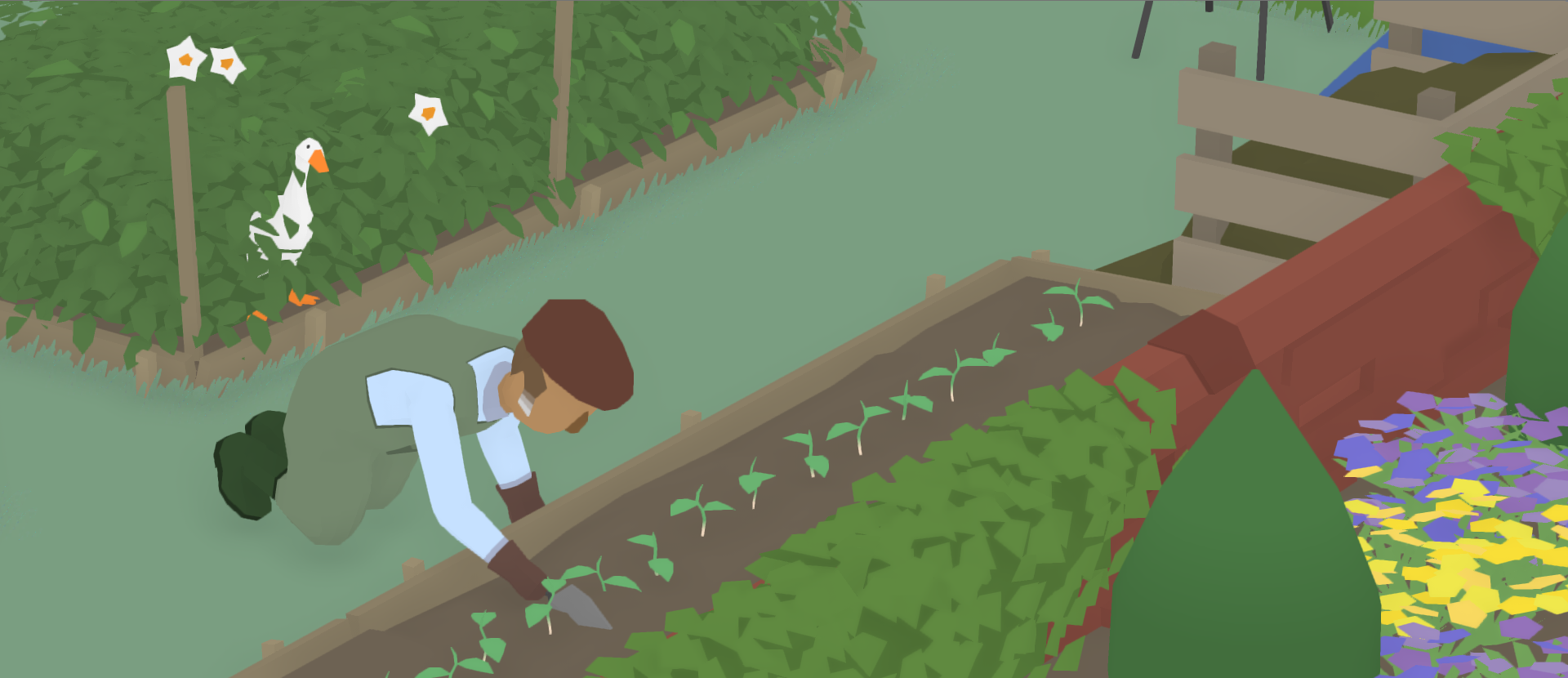 Shows like Wallace and Gromit and other small stakes comedies were integral to concepting the small stakes terror of living alongside a villainous goose in Untitled Goose Game. Just like the physical-oriented comedy of both Hot Fuzz and Wallace and Gromit, among many other inspirations, the team posits the game as a "little collection of punch lines." Eventually, the game's moment-to-moment action won't just be using stealth to steal things to annoy residents as we've seen, but will venture into orchestrating complex and ludicrous situations as the goose. Ideas kicked around for this include making the goose honk as someone's about to take a shot in pool, causing the person to tear the billiard table's felt from missing the cue ball; or alternatively, honking as someone's throwing a dart, causing them to hit a balloon instead of the dart board.
"[The town in Untitled Goose Game is] the kind of place where the worst thing that could happen to you is you have to interact with this nasty animal a little bit," said Gillespie-Cook. "Like that's the kind of feeling we want to recreate."
In the realm of Untitled Goose Game, everything's up for a laugh. And indeed, everything has potential to be a punchline. The humor seems to pay off, given the widespread glee over the teaser trailer earlier this year and the dense crowds I witnessed waiting a long, long time just to get a glimpse of the goose in action at Day of the Devs (which is a public and free event, I myself waited over an hour for my demo). Despite the long waits though, all around me people were smiling, both those playing and those just watching this goose be a total asshole. It's probably because deep, deep down, everyone accepts the game's universal truth: that geese suck.