Life Is Strange 2 Lead Writer on Episode 1's Shocking Events and the Shift From Arcadia Bay to a Road Trip
We sat down with Life Is Strange 2 lead writer Jean-Luc Cano at EGX 2018 to discuss the series' approach to everyday social issues.

This article first appeared on USgamer, a partner publication of VG247. Some content, such as this article, has been migrated to VG247 for posterity after USgamer's closure - but it has not been edited or further vetted by the VG247 team.
Spoilers for the first section of Episode 1 of Life Is Strange 2.

As I walk the show floor at EGX 2018, I'm greeted by the familiar sight of bulging queues for first party Nintendo games. A couple is turned away from a chance to play Ubisoft's next entry into the Assassin's Creed series, a young person in a Gyarados costume seems all consumed by their Switch as they wait for an opening to play Spyro Remastered. These sights are all to be expected, but as I near the corner of yet another flashy exhibition booth I'm presented with something that I couldn't help being surprised by. It's the line to play Life Is Strange 2, and it's absolutely heaving.
It's easy to forget just how popular the Life Is Strange series is. On the one hand, it seems laser targeted towards drumming up a devoted teen fanbase. On the other, it received middling to good critical reception, only to be held back by performance issues and a heavy handed approach to certain social issues. One thing is difficult to deny though, Life Is Strange is a popular game series with something important to say. The first game tackled bullying, suicide, and drug abuse, topics which few games of its scale would dare to broach.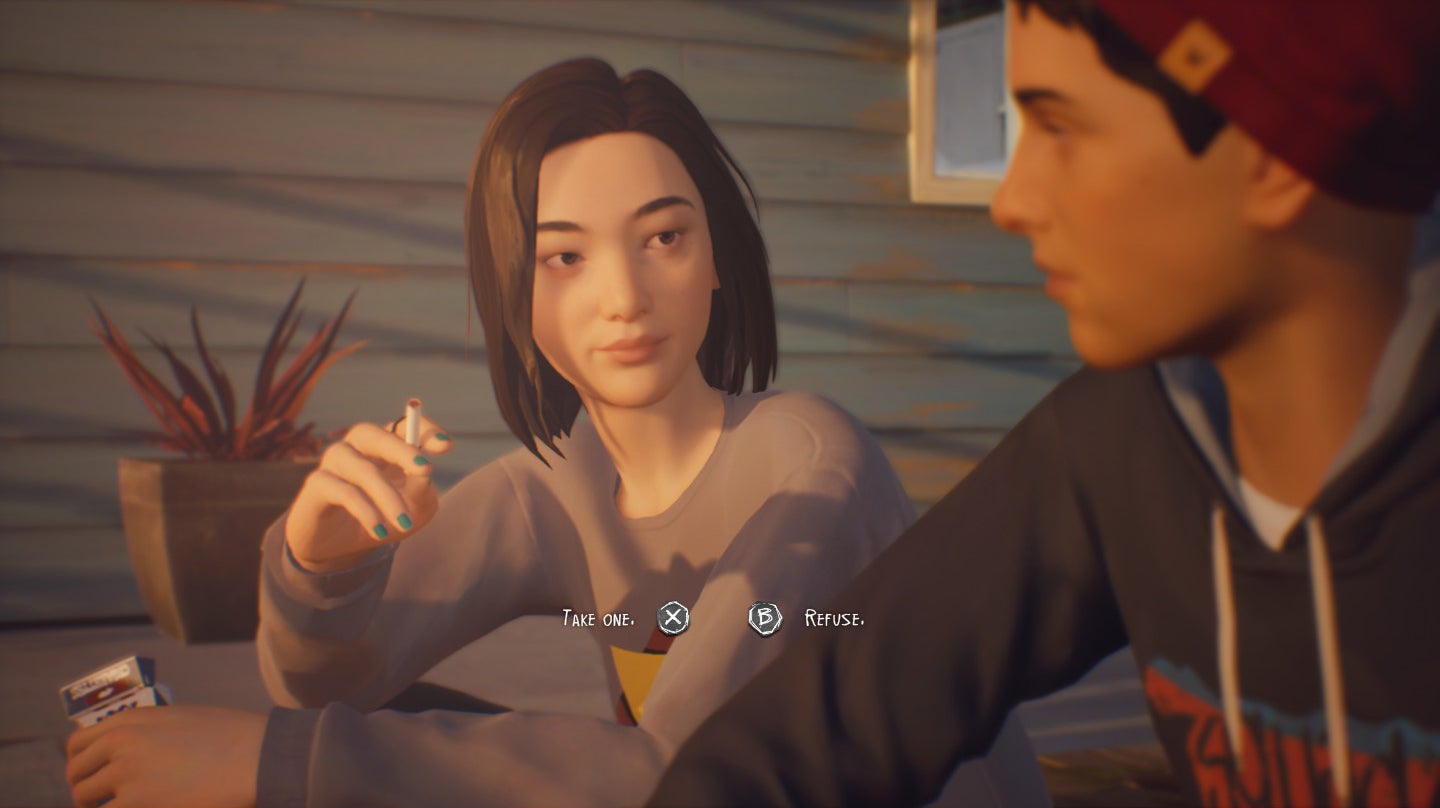 This commitment to highlighting social issues is hammered home in the first episode of Life Is Strange 2, which takes on issues like racism and police brutality with a surprising level of finesse. The gameplay demo I saw at the show ends in a scene that is both tragic, yet painfully familiar: a minority being needlessly gunned down by a police officer. While speaking to Life Is Strange 2 lead writer Jean-Luc Cano, it became clear that confronting every day social issues is a major part of the series' identity.
"Social themes are important to us, but with Michelle [Koch, director on Life Is Strange] and Raoul [Barbet, game director], we don't want to.." he pauses, "in the first Life Is Strange we talk about abortion, we talk about euthanasia, so yes in Life Is Strange 2 you will talk about in the meaning of the game about cops, violence and stuff like that [sic]. [...] It's something that happens everywhere in the world."
This approach to weaving topical everyday issues into the narrative presents itself almost immediately in Life Is Strange 2. Within the opening hour, the two main characters are told to "go back home!" by a neighbor, immediately placing the game within the current state of political discourse in the United States. For Sean and Daniel, this hatred is simply part of their everyday lives it's all they've ever known. The first Life Is Strange never shied away from hot button issues, but here it feels more natural, more real.
Cano explains that this is very much the intention, that the team is aiming to provide meaningful representation over a more on-the-nose approach. "So we don't want to make a statement and say we think, as a creator, that this is good or bad, we just put something in the game to provoke a discussion, because that is what we want to do in the Life Is Strange franchise," he says. "Dealing with these kind of topics, it is important for us. For Life Is Strange, having a character [a] minority, it's important because we want this to be shown in video games. So yes, it's not a political statement but something that matters to us."
If the first episode of Life Is Strange 2 is anything to go on, we're in for an emotional ride. The refined handling of real-world issues is engrossing, perhaps bolstered by the game's unique setting. Life Is Strange 2 does not take place in a single setting like its predecessor. Instead, it aims to take its characters on a road trip across America, from Seattle to Mexico. The cross section of locations that the boys will travel through presents more opportunities for meaningful comment and discussion. It also presents an interesting narrative quandry: how do you measure up to the first game's iconic setting of Arcadia Bay when the experience is split up between so many different locations? Cano explains that the road trip setting places a new dynamic on character interactions. Choices will have to be made faster, though hopefully the relationships are just as meaningful.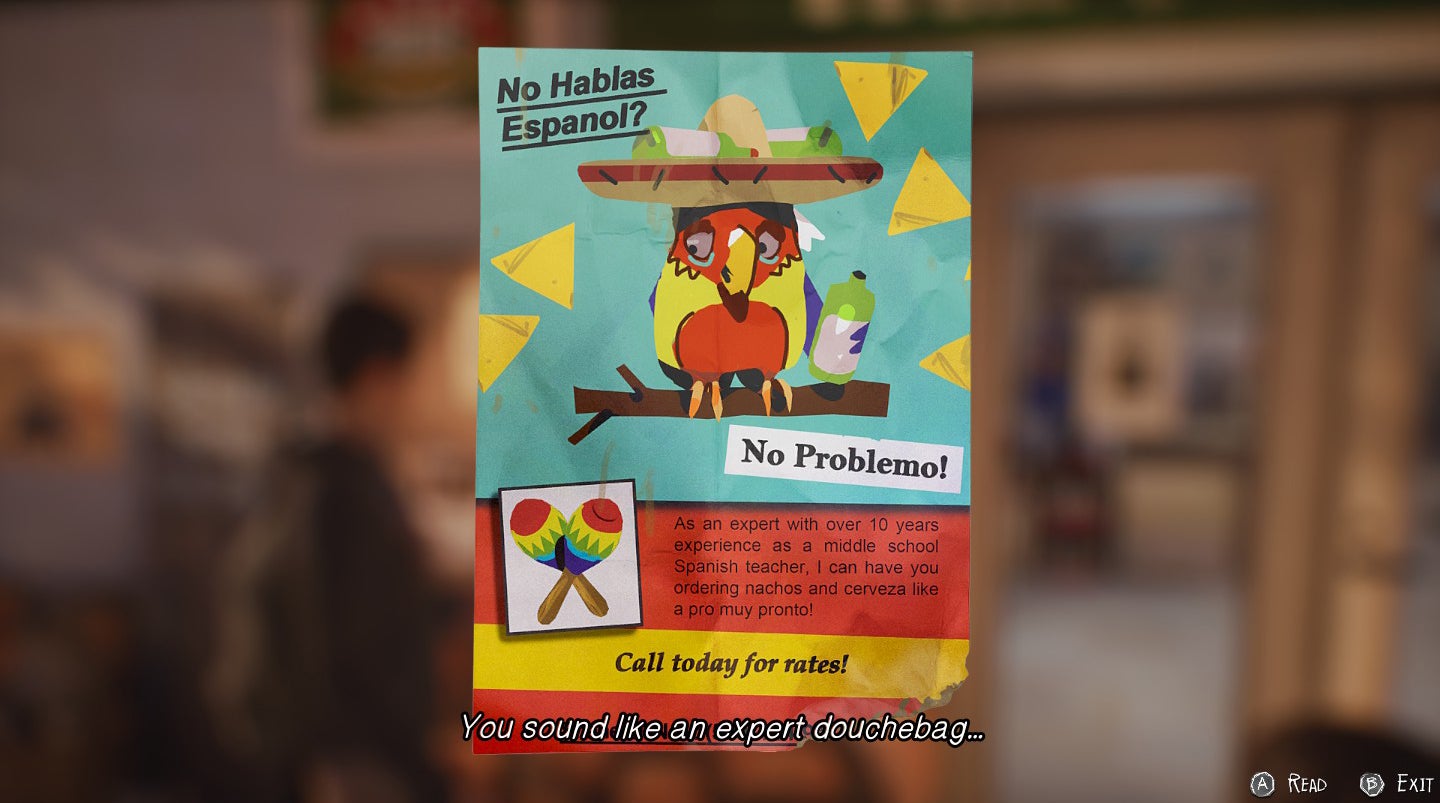 "Of course in the first Life Is Strange you are always in Arcadia Bay. We had the time, when you met a character, to explore, find secrets. But now in Life Is Strange 2, it's a road trip, it's a travel from Seattle to Puerto Lobos in Mexico, so you will meet on the road a lot of characters. The experience will be a lot different between Life Is Strange 2 and the first Life Is Strange. You will meet people, then leave them on the back of the road. You'll take some experience, good or bad, sometimes you will have a new companion maybe, or stay in some place for a little while but yes it will be a whole new experience. Our goal as creator was to create really quick empathy with new characters. You won't have the time to explore loads, but you will have to decide very quick if you want to trust them or not. We wanted to try something new."
Relatable characters and social issues are just one part of the Life Is Strange series' DNA. Another hallmark of the series is player choice. The first Life Is Strange famously presented players with a binary final choice, which literally split the fanbase down the middle. This emphasis on player agency continues with Life Is Strange 2, but there's added weight this time around thanks to the way player choice can directly alter the personality of its non-playable protagonist, Sean's younger brother Daniel.
Cano elaborates on this new avenue for player agency. "So for Life Is Strange 2, the main theme is education. Everything you are going to do as Sean, every choice you are going to make, dialogue, you know, is going to pass down to Daniel. It's all about how Daniel will be shaped by your actions. We thought it was a great idea because in most games your actions have an impact on the story, but in Life Is Strange 2 you have your own brother who will become maybe good, maybe bad, maybe a little of both." This new approach is added on top of the choice mechanics presented in the first game, and Cano confirms that "yes, there will be multiple endings, maybe more than Life Is Strange."
Because of Daniel, the stakes seem higher this time around. He'll be with you the entire time, a physical manifestation of the choices you've made up to that point. It's an interesting new addition to the series, showing how our actions can directly mould those who are closest to us. In a world as volatile and reactionary as ours is, it can be easy to forget that young people are absorbing every second of it. I'm intrigued to see the gulf between the "good" and "bad" versions of Daniel, as it has the potential to be one of the most affecting outcomes for a player-choice game we've seen yet.
We're only one episode into the new series of Life is Strange, and with a new engine, a refined approach to social issues, and a revamped choice system, it could well rise above some of the criticism directed at its first outing. Life is Strange 2 Episode One is available now for PS4, PC, and Xbox One, with Episode 2 to follow sometime this year. You can read our Life is Strange 2 review here, and stay tuned for our thoughts on future episodes.