FIFA 21 Review: One Final Shot
EA's soccer franchise tries to score one more goal before full-time is called on the current console generation.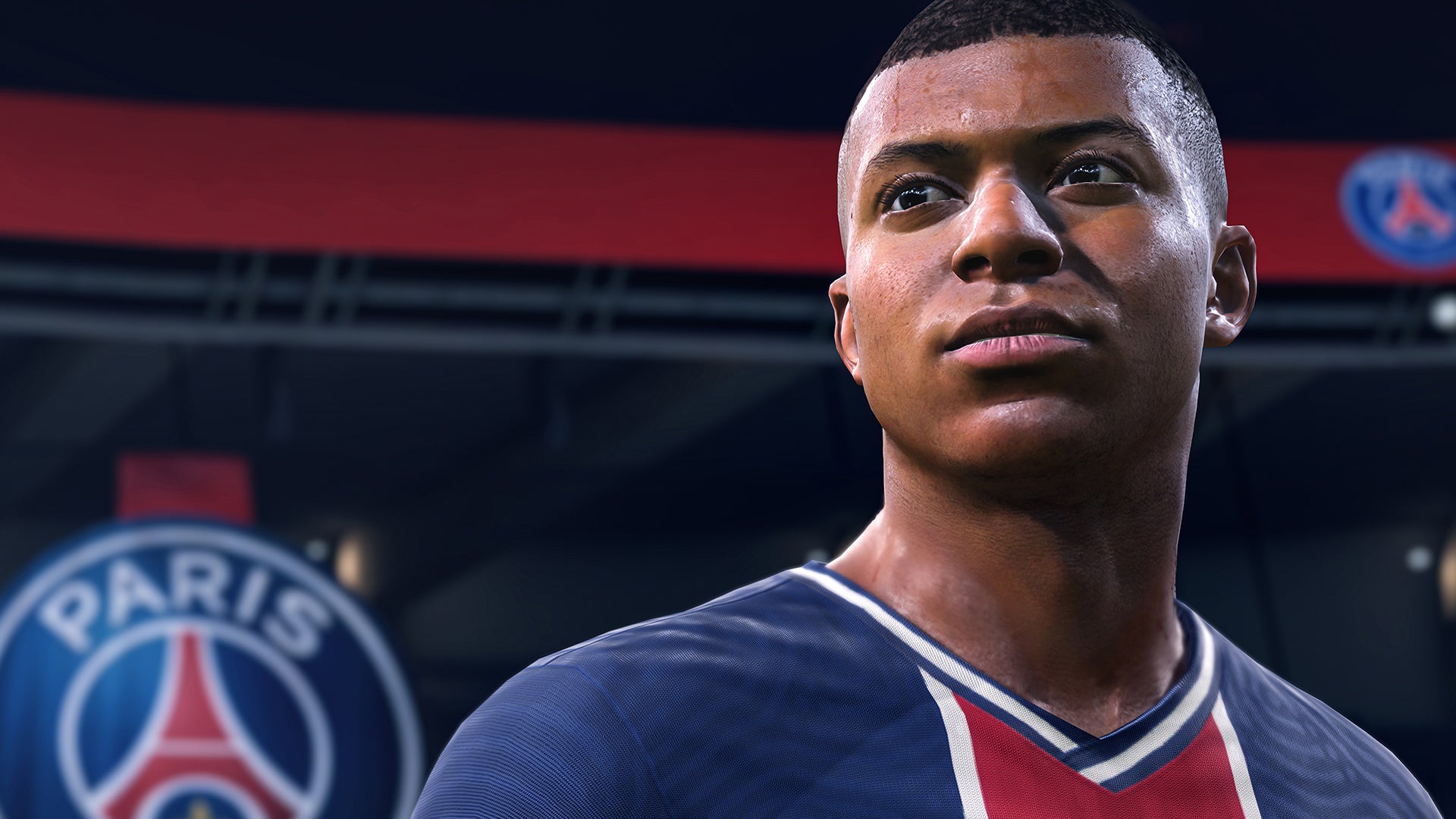 This article first appeared on USgamer, a partner publication of VG247. Some content, such as this article, has been migrated to VG247 for posterity after USgamer's closure - but it has not been edited or further vetted by the VG247 team.
It's been an odd generation for FIFA. More than ever, it's the crown jewel in EA's crown, single-handedly generating an almost unimaginable amount of revenue for the sports giant. But with rising profits has come a commensurate amount of fan dissatisfaction, which has served to tarnish its formerly sterling reputation.
Truly, this has been the generation of FIFA Ultimate Team, with all that entails. The mode was already immensely popular when the PlayStation 4 and Xbox One launched in late 2013, but it hadn't quite hit the saturation point that we see now. Now FUT is inescapable, completely subsuming FIFA's culture, much to the chagrin of longtime fans.
That's the legacy that FIFA 21 carries into what is realistically the final year of the franchise's relevance on PS4 and Xbox One. Certainly, there's plenty to criticize about FIFA's run on the current platforms; I believe that I'm on record as calling this generation an "unmitigated creative disaster for sports games." But on the other hand, there are also signs that the series is ready to take a positive step forward as it makes the transition to next-gen.
I'll start with some general praise: this year's version of FIFA is a lot of fun to just sit and play. As always, that's subject to change—I feel like I praise FIFA's gameplay every year, only for it to be ruined by a patch—but FIFA 21 is especially enjoyable. It's enormously sweaty, hearkening back to the manic days of FIFA 15, when Franck Ribery could turn on the jets and effortlessly slalom through defenses. It's smooth, players make intelligent runs, and it's enjoyable as heck.
This free-flowing sense of action is aided by a few key additions from EA. First is the speed boost, which allows players like Mbappe to rocket past unwary centre-backs with a couple quick taps of R1/RB. It's very powerful, especially once you become adept at chaining a few quick dribbles into one powerful burst of speed, but not entirely unstoppable... at least for now. Once some of the more powerful cards arrive in FUT, I expect it to be a little more broken.
The gameplay is further aided by creative runs, which allow you to direct attackers where you want, and the return of effective crossing. In many ways, this year's gameplay is embodied by Wolves striker Raul Jimenez, a powerful player with average pace who is proving a popular selection in many starter squads. With the help of the speed boost and smarter passing, there's reason to hope that players like German midfielder Toni Kroos will once again have their day in the sun in FIFA 21.
None of this is to say that FIFA 21 is suddenly a realistic simulation of the beautiful game. If anything, it's more like an arcade game than ever. But "realism" has never really been the objective for FIFA—it's always been about accessibility and fun. At its best, it's an ambassador for the game of soccer, a gateway to a deeper understanding of the world's favorite sport. There are more sophisticated experiences out there, but FIFA owes its popularity to its relative simplicity, and this year's version embodies those strengths better than most.
As in the past years, FIFA 21's gameplay is undergirded by a handful of core gameplay modes, the biggest (and most controversial) of them being FIFA Ultimate Team. FUT is by far the most popular and best-supported mode in the game, and even if you're leery of its infamous loot box model, it's hard to escape its gravity. For better or worse, FUT is where FIFA's playerbase lives, and it's where you're likely to derive the bulk of your enjoyment when playing online.
FUT can be described in simple terms as a mode in which your goal is to collect star players into the best team possible. Everyone from Mbappe to Chris Wondolowski is available for purchase in the transfer market, with prices ranging from a few hundred coins to several million. If you're smart, you can manipulate this market and make a huge number of coins without spending a dime. Most people, however, will opt to rip open packs in the hope that they will find a proverbial golden ticket in Messi or Ronaldo.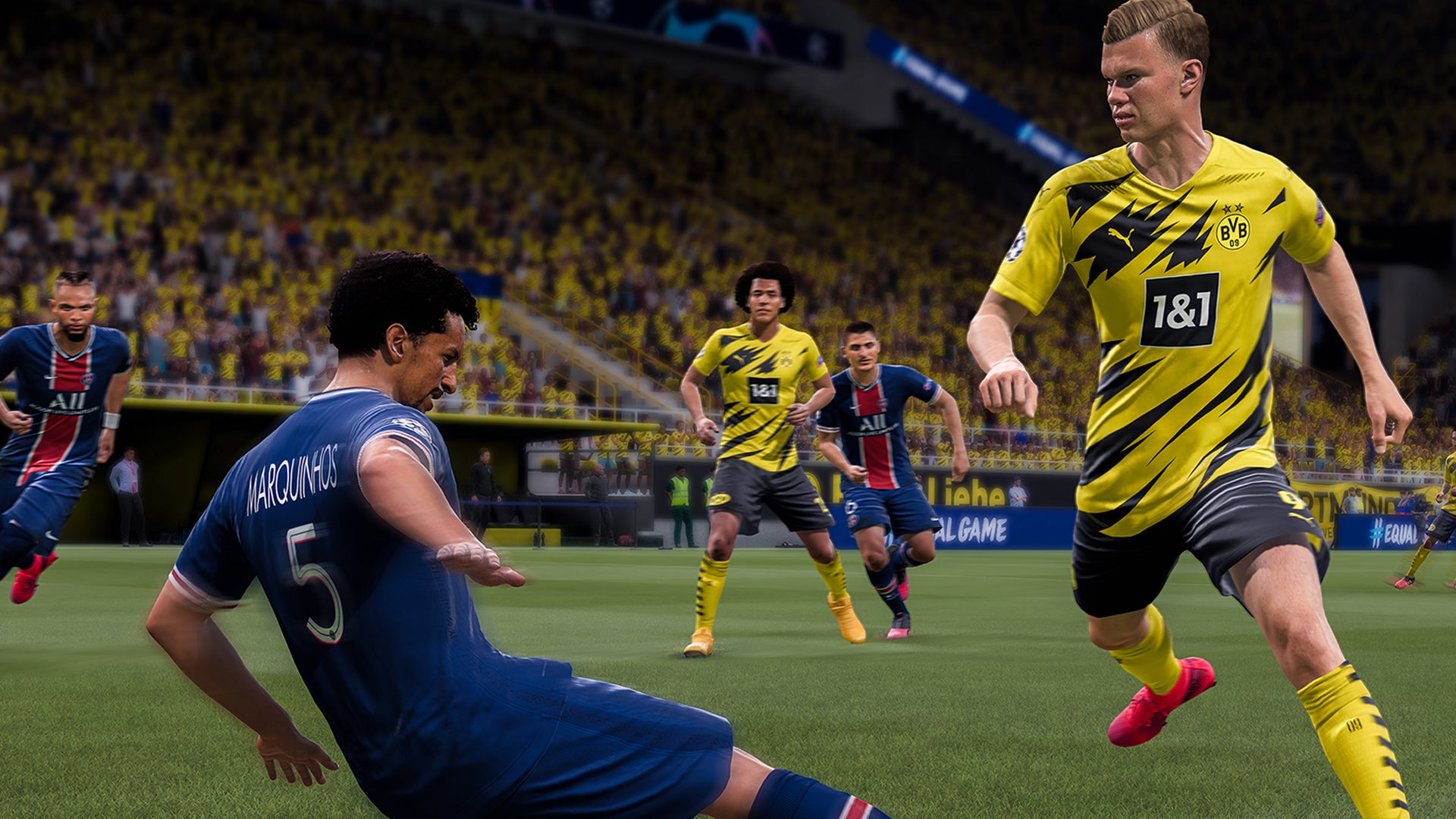 Over the past generation, EA has built FUT into an all-encompassing juggernaut, and I'll admit that I've put as many hours into it as anyone. Like everyone else, I find myself deeply uneasy with its business model, and the constant grind of playing games for rewards can be soul-draining. Nevertheless, there's something fundamentally satisfying about Voltron-ing your favorite players into the right formation and moving up the ranks. It's further buoyed by one of FIFA 21's best additions—FUT co-op—which allows you to grind AI battles and multiplayer matches with a friend. Ultimately, it represents FIFA at its most enjoyable... and its most problematic.
So look, I'm not going to try and defend FUT. I think the mode has subverted the sports landscape over the past generation, encouraging EA to throw its resources into microtransactions rather than legacy features like career mode. FUT's giant profits have made sports games viable amid rising development costs, but at the cost of making EA complacent. With so much money coming in from FUT, there's no longer the pressure to innovate or die, and the result is a product that at times feels stale. Ultimately, the 30 game grind of Weekend League is a pretty poor legacy for a generation of sports games.
Outside of FUT, FIFA 21's other offerings are pretty mixed. I'm long since over career mode, which more than ever attempts to ape the success of Football Manager without really understanding why Sports Interactive's opus works so well in the first place. This mentality is evident in additions like the updated simulation, which is basically a direct copy of the classic gameday view from Football Manager Touch, with little dots representing players ping-ponging around an overhead view of the pitch. What's missing is the depth of the simulation itself, and the spontaneous storylines that can arise as a result.
On its face, it seems as if FIFA has these things. You'll see news headlines about players being unhappy, and you'll become embroiled in your share of transfer sagas. But after a year or two, you'll realize that it's all for show, and that only the big teams are really changing. This makes FIFA 21's simulation feel static and uninteresting, even as it layers in attractive but ultimately superficial elements like interactive press conferences. No matter what you do, FIFA 21 will always hit the reset button. You can turn Wimbledon into a Champions League Power, but at the end of the day, the simulation engine will still treat you like a minnow. At least this version fixes the Youth Academy, which has been notoriously broken for years, by letting you dictate how their stats develop. No more superstar strikers with 30 pace.
The best I can say for FIFA's career mode is that it offers a degree of flexibility not found in similar modes of its type. One of my favorite things to do is build a custom super league with global powers like Barcelona and PSG and just watch them duke it out (it never stops being funny when Tottenham gets relegated). It also benefits from soccer's global talent base. There's nothing more satisfying than digging up a young stud from Boca Juniors, then watching them become the next Maradona. It's here that soccer's built-in strengths overcome foundational flaws. If EA could ever find a way to make it worth playing multiple seasons, it would really be something special.
Career mode's inability to reach its full potential has been one of the root causes of the community's frustration over the past few years. The same can be said for its pro mode, which is as basic as it was back in 2014. Where NBA 2K lets you roam a fully-interactive neighborhood; play pickup games, and decorate your own apartment, FIFA basically just offers the regular game with the camera locked to a single player. It's a huge missed opportunity by FIFA, and I continue to be baffled by EA's unwillingness to lean into the heavy wish fulfillment of being a global soccer star. Heck, EA could even charge for cosmetic microtransactions and still come out one better than NBA 2K, which inexplicably binds player progression to its in-game currency.
Instead, FIFA has spent the past couple years investing in Volta, a casual mode designed to capture the old-school fun of FIFA Street. This year's version includes drop-in online team play, making it far more viable than it was in FIFA 20, and the gameplay improvements shine in the smaller indoor arenas. That said, it still feels like a bit of non-starter. Maybe this is just indicative of the audience, but it was next to impossible to get a random match going during early access. Open up Twitch now, and you won't see anyone streaming Volta—it's all FUT. I'm sure EA would counter that Volta is intended for new players who want to get comfortable with the gameplay, but I'm not even sure Volta works on that level just because it's fairly complex in itself. If you're not comfortable with FIFA's controls, you will get absolutely ripped apart.
Is it too early to call Volta a failed experiment? Maybe. Online team play is a much-needed improvement for Volta, and its faster, flair-focused brand of street football is a decent change of pace from the core gameplay. EA is doing its part to make Volta viable, but if it doesn't find its feet this year, I doubt it ever will.
Big picture, FIFA 21 figures to be successful as ever as the generation comes to a close, but at the cost of a diminished reputation. Where the series once consistently pulled 90s on Metacritic, it's now seen as more of a revenue machine for EA than an actual video game. If EA wants to change that perception, it will need to invest a lot more into a high-quality single-player experience. Or not. We all know that FIFA will go on making money regardless.
For now, FIFA 21 closes out the generation as a fun soccer sim saddled with grindy microtransactions and a messy suite of single-player modes. A next-gen version is due out on PS5 and Xbox Series X later this year, and in a sign of where EA's priorities lie, it will allow you to transfer your progress in FUT and Volta, but not career mode (EA says that it's down to FUT being hosted on online servers while career mode is a local experience). In the near term, I expect little to change for the series, but who knows what things will look like in seven years. Maybe Europe will join Belgium in banning loot boxes. Maybe the annualized sports game model will wither and die. Either way, there's no guarantee that FUT is forever.
In the meantime, for as much as I've heaped on FIFA 21 decisions over the past few years, there are positive signs going forward. The team seems comfortable with the Frostbite Engine now, career mode received some much-needed updated, and Volta received the enhancements it needed to have a change of being viable. I'll go on hoping that FIFA carries this little bit of momentum on to the PlayStation 5, and that the next generation is better to the series than this one has been. After all, I'm a West Ham support: hope is all I really have.
ConclusionFIFA 21 closes out a mixed generation with some key gameplay improvements, making for the fastest, most enjoyable experience in FIFA 15. Its modes are more mixed, with career mode being a particular sore point. Ultimately, FIFA 21 may not be the comprehensive update everyone wants, but it's enough to generate some positive momentum heading into the new console generation.