Airplane Mode Promises an Experience So Banal That It's Sublime
Developer Hosni Auji tells us about the sim for the frequent flier set.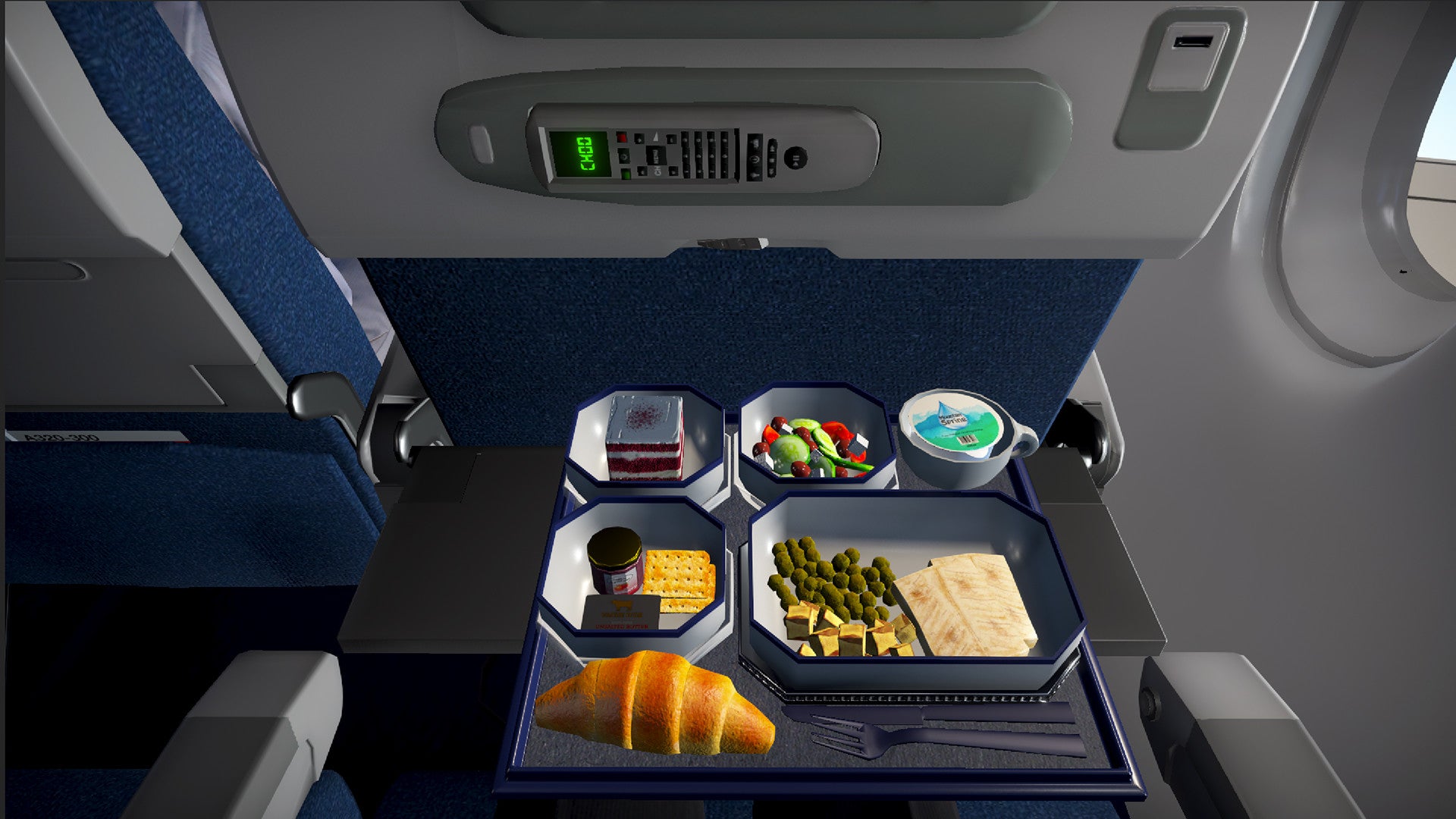 This article first appeared on USgamer, a partner publication of VG247. Some content, such as this article, has been migrated to VG247 for posterity after USgamer's closure - but it has not been edited or further vetted by the VG247 team.
Some people trip over themselves at any opportunity to tell their air travel horror stories, but there are also those who love the passenger experience. While the occasional wailing baby or rude recliner might spoil any flight, the hours spent with a neck pillow, in-flight entertainment, and complimentary wafer cookies come as a comfort to a certain kind of person. Neither a terribly stimulating or pedestrian experience, the humdrum coach flight can still carry a unique allure.
Developer Hosni Auji has probably considered the nuances of the average air travel experience as much, if not more, than any employee at an airline paid to ponder such things. Airplane Mode, Auji's simulator being released through AMC Games later this month, is all about evoking the feel of how humans have turned flying at 30,000 feet into something utterly unremarkable.
"If you fly enough, you notice that while all airlines are different, a large part of the commercial flight experience is largely predictable," Auji tells USgamer. "The unsung aspiration for any airline is a standardized flight, free of event. Our goal was to design this standardized flight and then layer it with delights, annoyances and idiosyncrasies that the frequent flyer will surely find relatable."
This means that upon loading up either of Airplane Mode's routes—a two-hour jaunt from New York's JFK to Halifax, Nova Scotia, or a six-hour journey from JFK to Reykjavik—players embark on a flight that aims for a particular kind of authenticity. That authenticity can be random in nature, hitting players with delays or even the dreaded crying baby.
"Sometimes people find it difficult to understand why anyone would make a game about something so banal," Auji says. "Yet when you ask them to share experiences or their opinions on flying, they almost always have a lot to say, in fact, way more than we could possibly hope to include in the game."
That "research phase" of coming up with Airplane Mode, if you want to call it that, got to a point where Auji and the other developers at Bacronym had to start leaving things out. Still, Airplane Mode has a readable book stashed in the carry-on bag; an in-flight magazine with a crossword; complimentary drinks and meals. The many hallmarks of a plain Jane plane-ride are represented.
There are some liberties taken, though, as a matter of making an actual sellable product out of Airplane Mode. For one, the controls on the in-flight entertainment screens may strike players as unrealistically responsive. "In general," Auji notes, "trying to simulate unresponsive controls is a pretty difficult task in a video game, because it just reads as shoddy development."
Another thing that won't line up one-to-one with IRL in-flight entertainment is the selection. In theory, being published by AMC could open the door to the network's recent TV releases for in-game consumption (like, here, have two completely random episodes of The Walking Dead), but instead, Airplane Mode skips over licensing concerns and presents "hit movies of the 1930s," drawing on a public domain film library.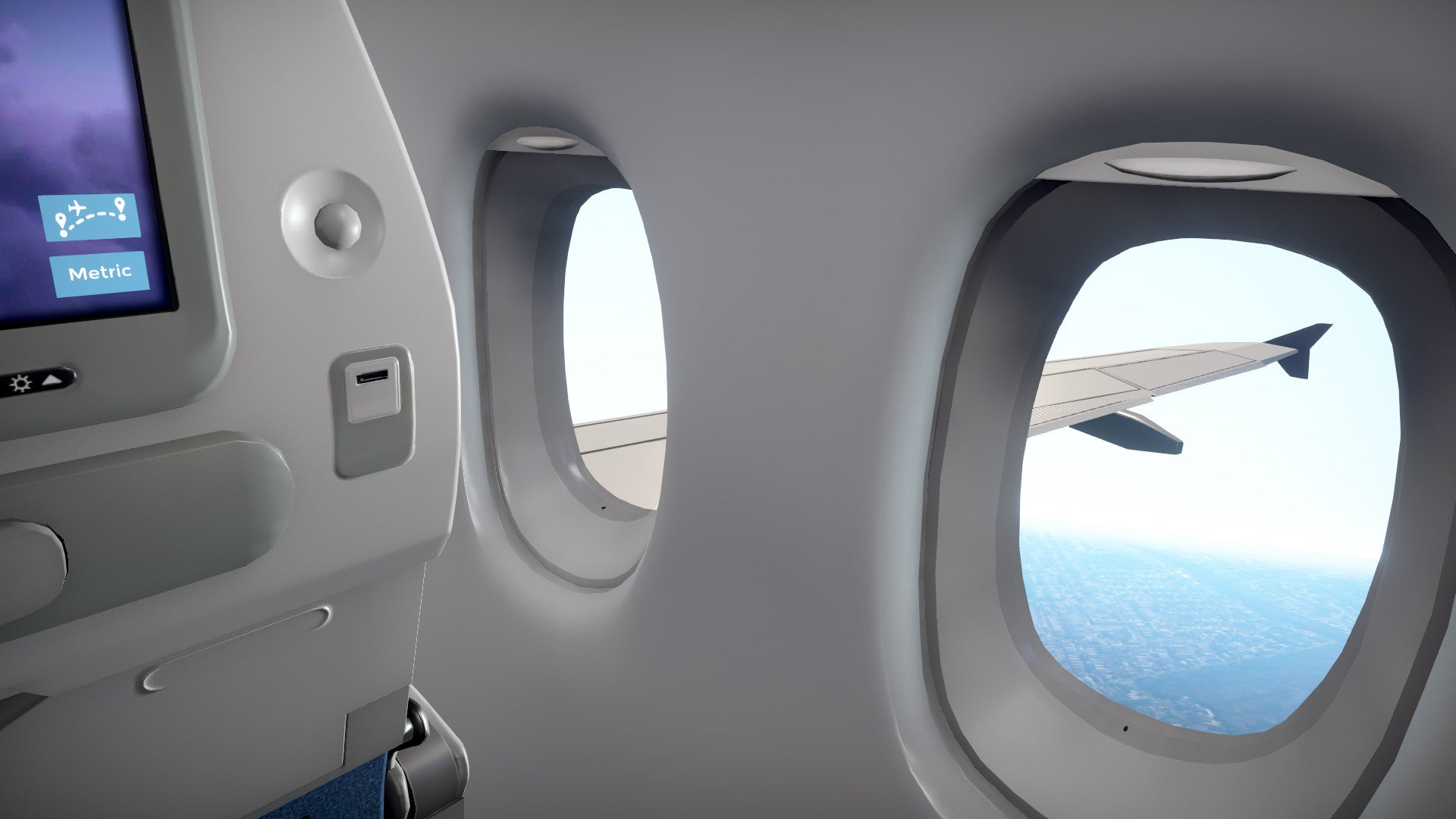 "The thing about works in the public domain is that it's tough to make them look like anything other than works from the public domain," Auji says. "That's often a design challenge in itself and must be balanced with the legal due diligence of making sure the works are in the public domain in all the territories you plan to release in." After clearing those conceptual and legal hurdles, though, Auji says the public domain can be "a saving grace" for indies (please, someone out there, make an FMV game repurposing old silent films).
In many ways, the timing of Airplane Mode's release couldn't be better. With the new Microsoft Flight Simulator giving people detailed cockpit views and grand third-person vistas, Airplane Mode gives you a crummy headrest screen and sudoku. Originally developed as an NYU Game Center project under the working title "Flight Simulator," Airplane Mode clearly functions on one level, owing to its Penn and Teller's Desert Bus inspiration, as a wry inversion of the fantasies Microsoft's been iterating on since the '80s. Having Getting Over It designer and narrator Bennett Foddy voice one of Airplane Mode's captains also nods to a lineage of games where surface-level pointlessness signals the true point.
Absolutely unintentionally, Flight Simulator and Airplane Mode both serve to fill the air travel-shaped gap in our collective psyche during the pandemic. "Airplane Mode has been in development since 2017, and it's not meant to reflect current real life air travel," Auji says. "Our intention is to give players a unique gaming experience, and the flights in this game are meant to be timeless and nostalgic." Even so, with the release of Airplane Mode's newest trailer, AMC nods to the idea that people may miss air travel, warts and all.
Yes, there are people taking flights today, but the realities of COVID-19 may well erode the last vestiges of the jet-set era ideals that have since faded into the boring comforts that Airplane Mode serves up. Wasteful trips to nowhere hopefully won't become a norm during the pandemic, but once there's a vaccine and air travel is truly on the table again, there are no guarantees it'll feel the same as it did a year ago. Where Desert Bus is a big joke about the supposed glamour of doing shows on the road (there's an 8 hour bus ride between Tucson and Vegas, and some unlucky person has to drive it), Airplane Mode seems tilted more toward commentary than comedy.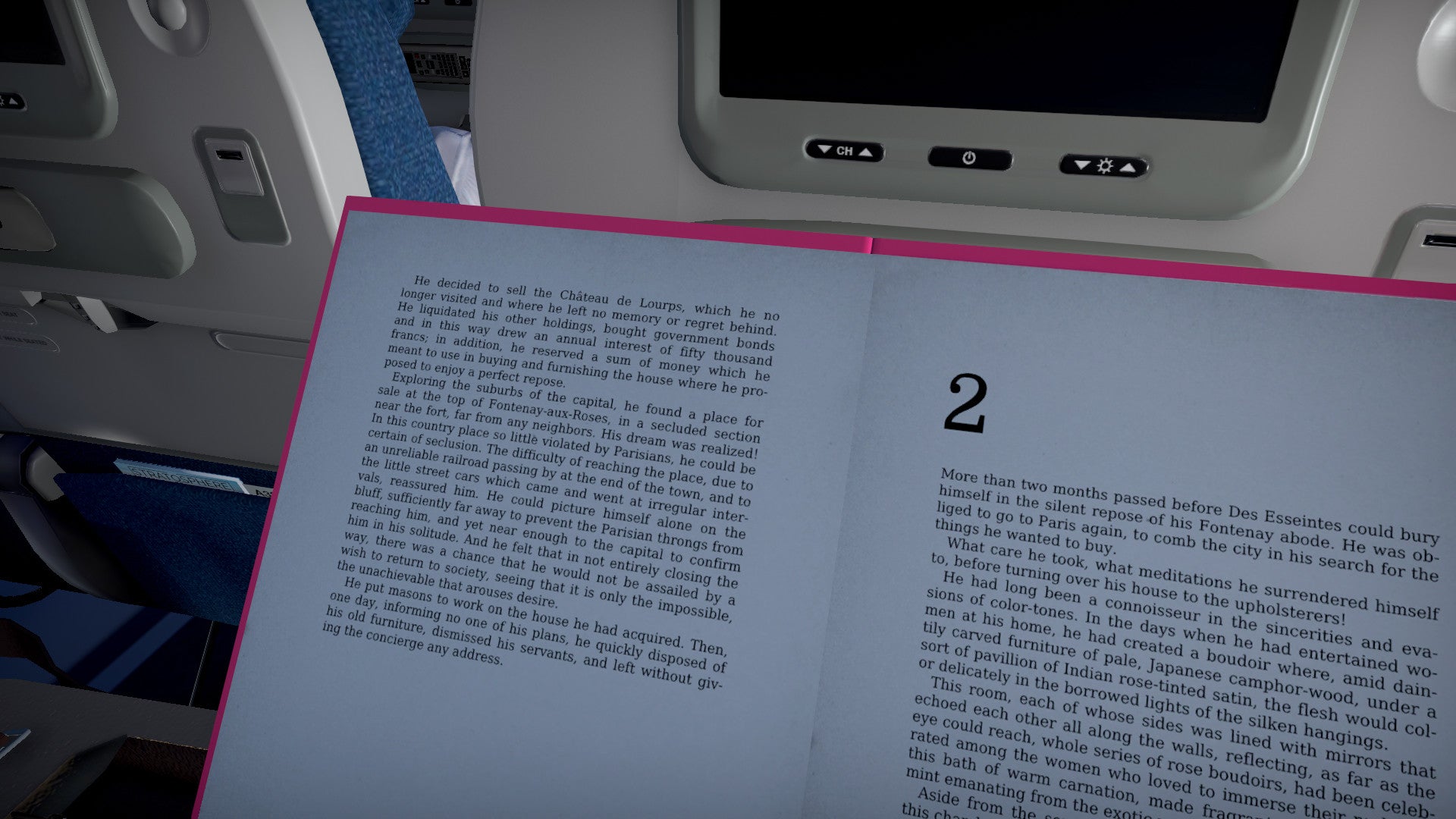 On its tin, Airplane Mode promises to simulate air travel as it exists in our immediate memory: at once a product and symptom of our overstimulating, technology-dependent way of life, and yet also an opportunity for a reprieve from it. Between take-off and landing, shoddy WiFi and a dull selection of movies may open up a space for rest. A routine flight might be the only time a person cracks open a book they've been meaning to read for months, if not years. A baby's irritating cries can lead to serene reflection on the arcs of human lives.
None of these deeper experiences are necessarily guaranteed by Airplane Mode, and the final release may yet have surprises in store. "I'd like to keep these particular cards close to my chest for now," says Auji on just how unpredictable a flight in Airplane Mode can be. That said, provided with a smooth, dull journey to Halifax or Reykjavik, players may just find that Airplane Mode can summon the kind of elevated thoughts and emotions that flights so frequently unlock for us. At the very least, nobody playing Airplane Mode at home will have to deal with a real-life passenger taking off their shoes and socks next to them. Some frontiers of realism like that are probably best left unexplored.
Airplane Mode will launch for PC and Mac via Steam on October 15.